Dr. Mike Fuljenz Honored With Crime Fighting And Writing Awards At World's Fair of Money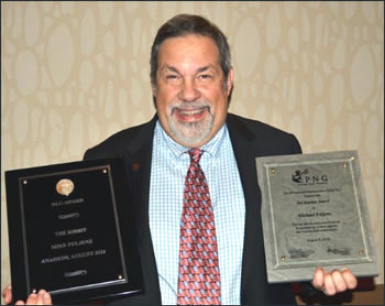 (Anaheim, California) - Top awards for consumer protection crime-fighting efforts and outstanding numismatic writing were presented to Michael Fuljenz of Beaumont, Texas at the 2016 American Numismatic Association World's Fair of Money.

He received four prestigious honors from two influential organizations, the Professional Numismatists Guild (PNG) and the (NLG) Numismatic Literary Guild, during awards ceremonies conducted in Anaheim, California, August 8 through 12.

The PNG presented Fuljenz the Sol Kaplan Award for efforts in combatting crimes against the numismatic community and the NLG honored him with three awards for writing, broadcasting and his strong support of the hobby. The PNG is a nonprofit organization composed of many of the country's top rare coin and currency experts, and the NLG is a nonprofit organization composed of prominent editors and writers in the numismatic community.

Fuljenz along with co-winners of the PNG's Kaplan award, former Police Chief Doug Davis and investigative journalist Jerry Jordan, jointly worked for nine months to provide valuable assistance to law enforcement agencies in four states that helped detectives coordinate their investigations into a series of numismatic-related crimes.

Their persistent work successfully led to the arrests earlier this year of three suspected con artists who allegedly targeted elderly victims and their coin collections in California, Colorado, New York and Texas. Fuljenz assisted one of the victims get back the $84,000 he spent on purchasing counterfeit gold American Eagles from two of the suspects.

Davis, the City Manager and former Police Chief of Pantego, Texas, is Founder and President of the Numismatic Crime Information Center. Jordan is Editor of SETinvesigates.com, an online investigative news organization in Southeast Texas.

Fuljenz won a Best Article award for his informative story, "Treasury Moves to Redesign $10 Bill, Add Portrait of an American Woman," published in The Examiner newspaper in his hometown of Beaumont. He also received a Best Radio Report award for his weekly broadcasts, "The Coin Show," on KLVI 560 radio in Beaumont, and was named recipient of the NLG's 2016 "Ribbit" Award for his service to the hobby and the Numismatic Literary Guild. Since 1986, he has been honored with more than 60 awards from the organization.

Fuljenz also was a featured speaker at the World's Fair of Money, presenting an educational lecture about the history of the national motto, In God We Trust, and the ongoing efforts to defend it against lawsuits that seek to remove the familiar motto from American's currency and public buildings.