The History of the United States Mint
 The United States Mint is the official coin factory for the United States government and manufactures the legal-tender American coinage that you find in your pocket change. While most of us carry around "pennies" (officially called one-cent coins), nickels, dimes, and quarters in our pockets and purses, or perhaps have a jar full of them at home, few really think about the United States Mint and its story.
It's perhaps safe to say that most Americans don't realize the U.S. Mint even makes anything other than the four denominations – cents, nickels, dimes, and quarters – that most of us are familiar with using for cash transactions. And some people mistakenly believe the U.S. Mint also prints "paper" currency. But that's the job of the Bureau of Engraving and Printing – and the subject of another story for another day! Read More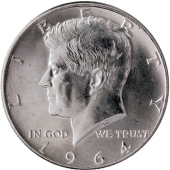 1964 Kennedy Silver Half Dollar BU (BU)
CALL FOR QUANTITY PRICING: 1-800-336-1630
---
• 90% Silver Composition
• 1964 Kennedy Half Dollars - Brilliant Uncirculated Condition (BU) in a protective capsule.
• Each Coin 1st Date of Issue - surviving bank and store inventory depletion in 1964
Historical John F. Kennedy Photo & Handwritten Letter (copy) To numismatist Mike Fuljenz's mother. When you call, ask about the correction done by the First Lady.
•  (Free High Resolution Digital Copy, limit 1 per household with coin order)
•  Brilliant uncirculated coins include minor bag marking & may be white or have some light coloration (toning).
•  WHERE WERE YOU ON NOVEMBER 22, 1963? It's the question that haunts millions of Americans who remember the assassination of President  John F. Kennedy. 
•  Price subject to change • Availability not guaranteed • No dealers please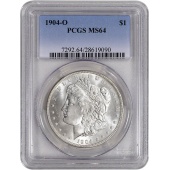 Morgan Silver Dollar MS-64 (64)
CALL FOR QUANTITY PRICING: 1-800-336-1630
---
PCGS or NGC Certified (Our Choice)

Coin pictures for representation only

Our choice of dates (1878 - 1904) and mint

The number one (1) Collected Classic United States Silver Coin

Today's prices are almost 50% higher than in 2010

Great luster and beauty

Desired by bank and train robbers for their over 3/4 oz of pure silver

Impressive size 38.1 mm diameter and weight (over 3/4 oz of pure silver)

Prices have trended higher

Hand-Selected by Award-Winning Expert Mike Fuljenz