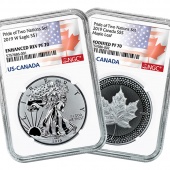 2019 Pride of Two Nations Limited Edition Two-Coin Set NGC PF70 (70)
2019 Pride of Two Nations Limited Edition Two-Coin Set NGC PF70
This beautifully rendered and unique special set is the first-ever joint coin set between the United States Mint and Royal Canadian Mint. It commemorates both nations with coins that capture their rich history, pride, and close relationship as neighbors and partners.
First time the Silver Eagle has been made available in the Enhanced Reverse Proof format.
First time that the US and Canada have collaborated on a coin release.
An American Eagle One Ounce Silver Coin with an enhanced reverse proof finish and a Canadian One Ounce Silver Maple Leaf with a modified proof finish.
The American Silver Eagle is 1oz .999 Fine Silver and Canadian Maple Leaf is 1oz .9999 Fine Silver.