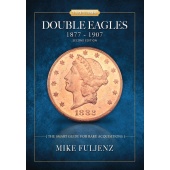 Type Three Double Eagles 1877 - 1907 By Mike Fuljenz (**)
A new 237 page reference book by award-winning writer Michael Fuljenz, "Type Three Double Eagles 1877 - 1907," provides useful information for gold coin collectors and investors, and reveals the inspiration for the motto, "In God We Trust.
---
Over 100 full-color photographs

Celebrity coin collectors

Law enforcement tips on how to protect your valuables from theft

"Peter," an eagle that lived at the Philadelphia Mint and inspired coin designs

The definitive article on the National Motto, In God We Trust

Augustus Saint-Gaudens and President Theodore Roosevelt's "Pet Crime"
Coin on the cover may vary.
CALL 800.336.1630
FOR AVAILABILITY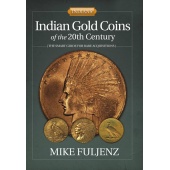 Indian Gold Coins Of The 20th Century By Mike Fuljenz (**)
Mike Fuljenz, one of the world's noted authorities on coin grading and the United States rare coin market, shares nearly 40 years of numismatic expertise in this industry-leading book, which received the 2010 Numismatic Literary Guild "Investment Book of the Year" award.
---
Award-Winner: 2010 NLG "Investment Book of the Year"
Collecting strategies: type, mint, year, complete sets, and proof type
Theodore Roosevelt's relationship with Indian Gold Coins
Full-color photographs of some of the finest-known specimens
How to protect your guns and gold from theft
Augustus Saint-Gaudens revealed
Date by date analysis
CALL 800.336.1630
FOR AVAILABILITY